Board of Directors
All nine members of the Emmi Board of Directors are non-executive members, who were not previously members of Emmi Group Management or the management team of one of its subsidiaries. The basis for nomination as a member of the Board of Directors is the fulfilment of a specific requirement profile of requirements, which reflects the relevant expertise for Emmi's strategic long-term development and seeks to achieve balance across the Board. Mandate agreements are in place with each member, governing all the necessary details.
Thomas Grüter, Hubert Muff and Werner Weiss are members of the Board of the Central Switzerland Milk Producers Cooperative (ZMP), which supplies a large proportion of its milk to Emmi. ZMP, via its subsidiary ZMP Invest AG, Lucerne, holds a majority stake in Emmi.
Fritz Wyss (born 1944) has been Honorary Chairman of the Emmi Board of Directors since 2010. He was a Delegate of the Board of Directors from 1993 to 2003 and its Chairman from 2003 to 2009.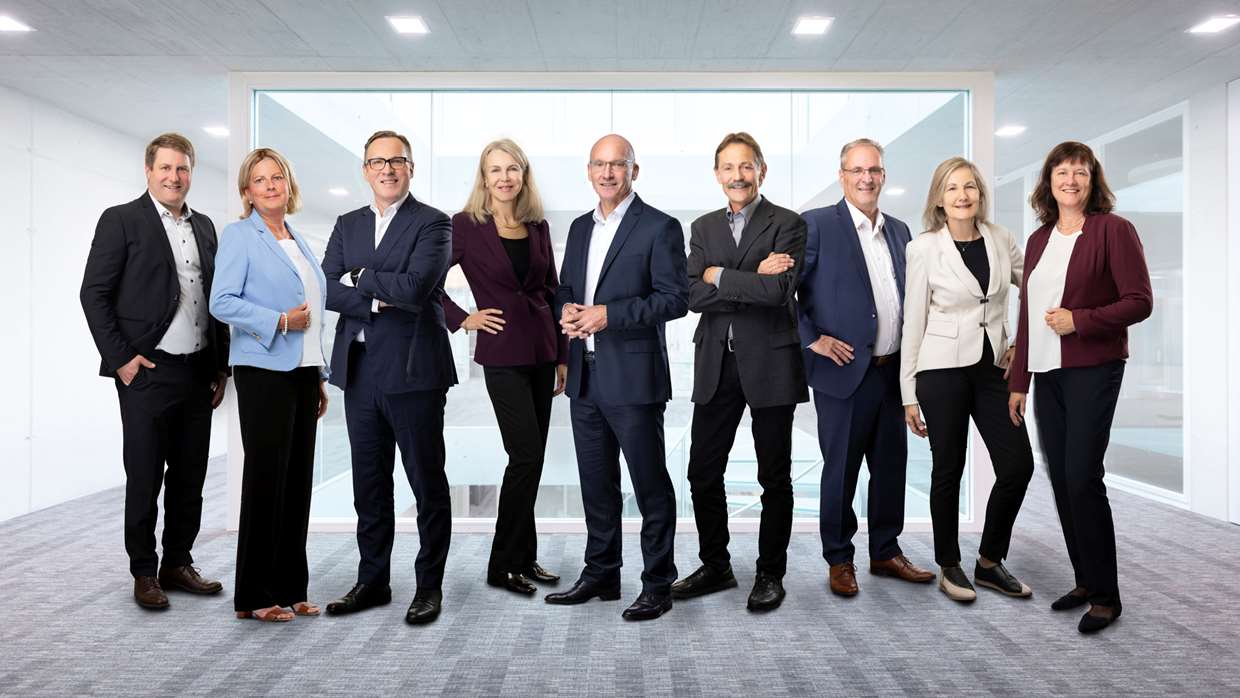 Members of the Board of Directors
| | | | | |
| --- | --- | --- | --- | --- |
|   | Year of birth | Nationality | Education | First elected |
| Urs Riedener Chairman of the Board of Directors | 1965 | Swiss | Business Economist lic. Oec. HSG MBA Stanford Executive Program | 2023 |
| Thomas Grüter Vice-Chairman of the Board of Directors | 1964 | Swiss | Swiss Certified Master Farmer | 2021 |
| Monique Bourquin   | 1966 | Swiss | Business Economist lic. oec. HSG | 2013 |
| Dominik Bürgy   | 1966 | Swiss | Lic.iur., Swiss Certified Tax Expert | 2021 |
| Christina Johansson | 1966 | Swiss/Swedish | Business Economist, Master of Science in Business Administration & Economics | 2018 |
| Nadja Lang | 1973 | Swiss | Certified Business Economist | 2023 |
| Hubert Muff | 1984 | Swiss | Certified Agrotechnician | 2022 |
| Diana Strebel | 1960 | Swiss | Certified oec. Business Economist Master of Science in Marketing GSBA and University of Wales | 2012 |
| Werner Weiss | 1969 | Swiss | Certified Farmer | 2022 |
Urs Riedener
Chairman since April 2023
Professional background

2008 – 2022

Emmi Group, CEO and Chairman of Group Management

2000 – 2008

Migros Cooperative (MGB), Head of Marketing and Member of the Executive Board since 2002

1995 – 2000

Lindt & Sprungli Group, both in Switzerland and abroad, various management positions, latterly National Sales Manager and Member of the Board of Management for Switzerland

1992 – 1995

Kraft Jacobs Suchard Group, various positions, latterly Group Brand Manager

 

 

Other mandates

since 2022

Schwarz Unternehmenstreuhand KG, Member of the Advisory Council

since 2014

Bystronic AG, Member of the Board of Directors

since 2007

Institute of Marketing at the University of St. Gallen, Member of the Executive Committee

2015 – 2023

SMG (Swiss Management Association), Member of the Executive Committee

2010 – 2022

Promarca (Swiss branded goods association), Member of the Executive Committee
Thomas Grüter
Member of the Board of Directors since 2021, Vice-Chairman since 2022
Professional background

since 1996

Sonnhaldenhof, St. Urban, Tenant and Employer

1990 – 1996

Uf-Stocken Estate, Kilchberg, Farm Manager Deputy Farm Manager

1985 – 1990

Employee  on various farms

 

 

Other mandates

since 2021

Central Switzerland Milk Producers Cooperative (ZMP), Chairman

since 2021

Swiss Milk Producers (SMP), Member of the Board

since 2021

Swiss Farmers' Union, Member Chamber of Agriculture and Delegate

since 2015

Cantonal Councillor Lucerne, Member of the Commission for Spatial Planning, Environment and Energy

2000 – 2020

Municipality of Pfaffnau, Member of the Municipal Council, Chairman since 2004
Monique Bourquin
Member of the Board of Directors since 2013
Professional background

2012 – 2016

Unilever Germany, Austria and Switzerland (D-A-CH), Chief Financial Officer

2008 – 2012

Unilever Switzerland, Country Managing Director

2002 – 2008

Unilever Switzerland, Customer Development Director

1999 – 2002

Mövenpick Foods Switzerland, latterly Director Switzerland for the Food division

1997 – 1999

Rivella AG, National Account Manager

1994 – 1997

Knorr Nahrmittel AG, Product Manager

1990 – 1994

PriceWaterhouseCoopers, various roles

 

 

Other mandates

since 2021

W. Kündig & Cie AG, Member of the Board of Directors

since 2019

Swiss Board Institute, Member of the Advisory Council

since 2019

Weleda AG, Member of the Board of Directors

since 2018

Swisscontact, Member of the Foundation Board

since 2017

Swiss Federal Institute of Technology (ETH), Zurich, Lecturer in Change Management

since 2017

Promarca (Swiss branded goods association), President

since 2017

Kambly AG, Member of the Board of Directors

2017 – 2021

Straumann Group, Member of the Board of Directors

2012 – 2016

Unilever Germany pension fund, Chairwoman of the Board for the employer side

2009 – 2021

GfM (Swiss Marketing Association), Member of the Board of Directors

2008 – 2016

Unilever Switzerland pension fund, Chairwoman of the Foundation Board
Dominik Bürgy
Member of the Board of Directors since 2021
Professional background

since 2019

Wenger & Vieli, Attorneys at Law, Partner

2009 – 2012

Ernst & Young, Managing Partner Tax & Legal Switzerland

2008 – 2016

Ernst & Young, Partner, Member of the Executive Board

2008 – 2014

Ernst & Young, Member Tax Leadership Team GSA (D-A-CH)

2008 – 2010

Ernst & Young, People Partner Tax GSA

2002 – 2019

Ernst & Young, Partner

1993 – 2002

Arthur Andersen, Tax and Legal Consulting, Partner since 2002

 

 

Other mandates

since 2020

Kuehne + Nagel International AG, Member of the Board of Directors

since 2020

Member of the Board of Directors of privately held companies

since 2016

allianz denkplatz schweiz, Chairman

2013 – 2018

Swiss Employers' Association, Member of the Board

2012 – 2018

economiesuisse, Member of the Board

2011 – 2018

EXPERTsuisse, Chairman
Christina Johansson
Member of the Board of Directors since 2018
Professional background

since 2022

Dormakaba, CFO

2018 – 2022

Bilfinger SE, Group CFO and also CEO ad interim since 2021

2016 – 2018

Bucher Industries Group, Group CFO

2014 – 2016

SR Technics Group, Group CFO and Deputy Group CEO

2007 – 2014

Pöyry Energy Business Group and Management Consulting Business Group Switzerland, CFO

2005 – 2007

Zeag Group, CFO and Deputy CEO

1996 – 2005

Amcor Rentsch & Closures Group Switzerland/Germany/Canada, Group CFO, previously Corporate Finance Controller

1993 – 1996

Securitas Group, Financial Controller and Treasury Manager for Germany and Austria

 

 

Other mandates

since 2021

About You AG, Member of the Supervisory Board and Chairwoman of the Audit Committee
Nadja Lang
Member of the Board of Directors since April 2023
Professional background

since 2022

Cooperative ZFV-Unternehmungen, CEO and Delegate of the Board of Directors

2019 – 2022

Cooperative ZFV-Unternehmungen, Chairwoman of the Board of Directors and since 2021 CEO

2017 – 2019

Cooperative ZFV-Unternehmungen, Member of the Board of Directors

2005 – 2017

Fairtrade Max Havelaar, latterly CEO Schweiz

2003 – 2005

General Mills Europe Sàrl, European Marketing Manager, Ambient Food

1999 – 2003

The Coca-Cola Company, various positions in Brand- and Innovation Management

 

 

Other mandates

since 2020

Pax, Schweizerische Lebensversicherungs AG, Member of the Board of Directors, Chairwoman of the Nomination and Compensation Committee

2014 – 2023

Swiss Post Ltd., Member of the Board of Directors, Chairwoman Committee People-Sustainability-Governance

2015 – 2021

Energie 360° AG, Member of the Board of Directors

2013 – 2021

Metron AG, Member of the Board of Directors, Vice Chairwoman
Hubert Muff
Member of the Board of Directors since 2022
Professional background

since 2014

Farm in Windblosen Neuenkirch, Manager

2010 – 2013

Krieger AG Ruswil, Dispatcher

2006 – 2009

Farm in Windblosen Neuenkirch, Farmer

2006 – 2007

Baumann Sempach forestry team, forestry Worker

 

 

Other mandates

since 2021

Central Switzerland Milk Producers Cooperative (ZMP), Member of the Board

since 2014

Windblosen Neuenkirch dairy cooperative, President
Diana Strebel
Member of the Board of Directors since 2012
Professional background

since 2009

Strebel-Birt AG consultancy firm for brand management, marketing and communications, Managing Director and Co-founder

2005 – 2009

Interbrand Zintzmeyer & Lux AG, Managing Director

2005 – 2009

Interbrand Europa, Chief Operating Officer

1981 – 2003

Various advertising agencies, including as Deputy CEO at Publicis Group and CEO at Wunderman AG; Founder and Co-owner of Aebi, Strebel AG

 

 

Other mandates

since 2011

Globalance Bank AG, Vice President of the Board of Directors

since 2009

Ricola AG, Member of the Board of Directors

2006 – 2009

Interbrand Zintzmeyer & Lux AG, Member of the Board of Directors

2002 – 2005

Scholz & Friends AG, Member of the Board of Directors

2002 – 2004

Wundermann AG, Member of the Board of Directors
Werner Weiss
Member of the Board of Directors since 2022
Professional background

since 1992

Family farm in Feldheim Meierskappel, Farm Manager

1991

Farm in Feldheim Meierskappel, Employee

1989 – 1991

Röllin AG milk transporters in Hirzel, Employee

1990

Eberle Zimmerei Holzbau carpentry firm in Edlibach, Employee

1988 – 1989

Röllin AG engine overhaulers in Hirzel, Employee

1987

Farm in Moos Hünenberg, Employee

 

 

Other mandates

since 2020

ZMP Invest AG, Member of the Board of Directors

since 2005

Genossenschaft Zentralschweizer Milchproduzenten ZMP, Member of the Board, Member of the Personnel Committee

 

Various roles in agricultural organisations in Switzerland and commissions of Meierskappel municipality and surroundings
Committees
| | | | | |
| --- | --- | --- | --- | --- |
|   | Audit Committee | Market Committee | Personnel and Compensation Committee | Agricultural Council |
| Urs Riedener Chairman of the Board of Directors | • | • | • (Chairman) | • (Chairman) |
| Thomas Grüter Vice-Chairman of the Board of Directors |   | • | • | • |
| Monique Bourquin Member |   | • | • | • |
| Dominik Bürgy Member | • |   |   |   |
| Christina Johansson Member | • (Chairwoman) |   |   |   |
| Nadja Lang Member |   | • |   |   |
| Hubert Muff Member | • |   |   | • |
| Diana Strebel Member |   | • (Chairwoman) |   |   |
| Werner Weiss Member |   |   |   | • |